Second lecture visit of Professor Hans Koechler to the Philippines
(12-23 June 2004)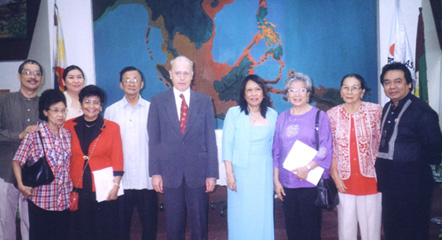 The visit was arranged by the Foundation for Social Justice and the H. Koechler Philosophical and Political Society, Manila.

Global Justice or Global Revenge? – Book launching ceremony
University of the Philippines, Asian Center
Quezon City, Metro Manila, 14 June 2004

The Role of the United Nations and Questions of International Legitimacy
University of the Philippines, College of Law
Quezon City, Metro Manila, 17 June 2004

The U.S. Handover of Sovereignty to Iraq – Moral and Legal Questions
People's Forum on Peace for Life / National Council of Churches in the Philippines
Manila, 18 June 2004

The June 30 Handover – Sovereign Iraq or US Neocolony?
Bayan / Justice Not War Coalition / University of the Philippines
Diliman, Quezon City, 18 June 2004

Quo Vadis, United Nations?
Polytechnic University of the Philippines, College of Law
Manila, 22 June 2004

The Changing Nature of International Relations and the Future of World Order
Armed Forces of the Philippines Command and General Staff College
Camp Aguinaldo, Quezon City, 23 June 2004

Dinner reception by the Chief Justice of the Supreme Court in honour of Prof. Hans Koechler
Supreme Court of the Philippines
Manila, 15 June 2004
By clicking on a picture you can see the enlarged version and/or additional information on the event.