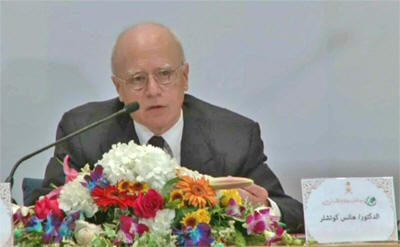 Muscat (Oman) / Vienna (Austria), 8 February 2014
RE/24827c-is
At the invitation of the Sultan Qaboos Higher Centre for Culture and Science, the President of the International Progress Organization (I.P.O.), Dr. Hans Köchler, last week delivered a special lecture on "The Policy of Violence and its Destructive Impact on Social Cohesion." The lecture was part of a Scientific Forum held at the Sultan Qaboos Grand Mosque in Muscat in connection with the Third "Week of Rapprochement and Human Harmony."
Prof. Köchler explained that the legitimacy of a political system is essentially determined by its ability to restrict, and ultimately prevent, the exercise of violence in society so as to ensure political stability and a dignified life for all citizens. This has to be done on the basis of clearly defined legal rules and procedures, and it requires an unequivocal commitment of the state to a policy of social justice. The state will only be credible in its role as "enforcer" of the peace if its actions are embedded in an elaborate system of separation of powers. Referring to national and international developments, Prof. Köchler described the destructive impact of violence on social cohesion and political order in general, and contrasted the exclusionary nature and effect of violence with the integrative mandate of the state.
On the sidelines of the conference, the delegates visited the Al Batinah South and the South Eastern Governorates and met with representatives of several Ministries and state institutions. Prof. Köchler held conversations with H.M. the Sultan's Adviser for Cultural Affairs and Minister of Culture and National Heritage, H.E. Abdul Aziz bin Mohammed al Rowas; the Secretary-General of the Sultan Qaboos Higher Centre for Culture and Science, Mr. Habib M. Al-Riyami; the Secretary-General of the State Council (Senate), Dr. Khaled bin Sali Al-Saidi; the Minister of Higher Education, H.E. Dr. Rawiyah bint Saud Al-Busaidiyah (Ms.); the Minister of Information, H.E. Dr. Abdulmunim bin Mansour bin Said al Hasani; and the Secretary-General of the Foreign Ministry, H.E. Sayyid Badr bin Hamad bin Hamoud Al-Busaidi.