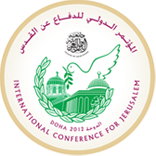 International Conference on Jerusalem
Emir of Qatar calls for international commission of inquiry on Israeli practices
Doha, 27 February 2012
P/RE/23209c-is
In opening remarks at the International Conference on Jerusalem in Doha, the Emir of the State of Qatar, Sheikh Hamad bin Khalifa al-Thani, called upon the United Nations Security Council to investigate the measures undertaken by Israel since 1948 to judaize Jerusalem. He expressed his regret at the lack of Arab efforts to preserve the Arab and Islamic identity of the city and stressed the importance of Arab unity vis-à-vis the occupation and the ongoing violations of international law in Jerusalem. In a reference to the political transformation in the region, the Emir said that public opinion in the Arab world "has awakened and will not accept" anything "less than a just peace based on the legitimate rights of the Palestinian people."
The two-day conference, which concluded its deliberations today, was co-sponsored by the League of Arab States and the Organization of Islamic Cooperation. The President of the State of Palestine, Mahmoud Abbas; the Prime Minister of Morocco, Abdelilah Benkirane; the Secretary-General of the Arab League, Dr. Nabil el-Araby; and the Secretary-General of the Islamic Cooperation Organization, Dr. Ekmeleddin Ihsanoglu, also addressed the opening session.
In a special lecture on "The Evolution of the Palestine Problem and the Status of Jerusalem: Force of Law or Law of Force?", the President of the International Progress Organization, Dr. Hans Koechler, stressed that any solution to the dispute over Jerusalem must be based on the recognition of the sovereign rights of the people of Palestine, which have been neglected since the time of the League of Nations Mandate well before World War II and the war of 1948. The acquisition of territory by force does not create legal rights, and Israel is under the obligation to abolish the law on the annexation of Jerusalem and to withdraw from all occupied Arab territories. The inability of the United Nations Security Council, due to the United States veto, to adopt coercive measures against the occupation and annexation of Jerusalem has condemned the world organization to a policy of double standards, Dr. Koechler said. He expressed the hope that political developments in the Arab world will lead Western powers to reconsider their position on Arab rights in Palestine.
More than three decades ago, the International Progress Organization, in co-operation with the League of Arab States, held a first conference on "The Legal Aspects of the Palestine Problem with Special Regard to the Question of Jerusalem" (Vienna, Austria, 3-5 November 1980). The conference publication has become a major reference work for research in this field.
The research papers presented at the Doha conference will be published by the League of Arab States.<![if !supportEmptyParas]> <![endif]>
***